Revolutionary Optimists
From civicintelligence
"Children are saving lives in the slums of Kolkata. Amlan Ganguly doesn't rescue slum children. He empowers the youth to become change agents, battling poverty and transforming their neighborhoods with dramatic results. Filmed over the course of several years, The Revolutionary Optimists follows Amlan and three of the children he works with on an intimate journey through adolescence, as they fight for the better future he encourages them to imagine is deservedly theirs."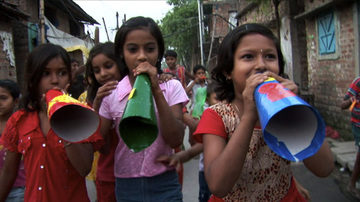 Hot-headed, theatrical, but astonishingly dedicated and sincere, Amlan left a successful law career to try to make meaningful change where the law and other NGO's had failed. A dancer, choreographer, and costume designer, he brings creative expression to subjects that can otherwise be difficult for film audiences to approach. Meet local youth using the Map Your World app from the film to effect change right here in the Puget Sound.
Nicole Newnham (co-director) was nominated for a national Emmy Award for co-producing and directing the documentary PBS Independent Lens Sentenced Home (2006), which follows three Cambodian refugees in Seattle who are deported back to Cambodia after 9/11.
Maren Grainger-Monsen (co-director) is a physician, filmmaker-in-residence and director of the Program in Bioethics in Film at the Stanford University Center for Biomedical Ethics