Aphyllon purpureum
From Puget Prairie Plants
Scientific Name: Aphyllon purpureum
Family: Orobanchaceae
Common Names: purple broomrape
Synonyms/Misapplications: Aphyllon uniflorum, Orobanche porphyrantha, Orobanche sedii, Orobanche uniflora, O. uniflora vars. minuta, O. purpurea, O. unifoflora subsp. occidentalis
Codon: APHPUR
---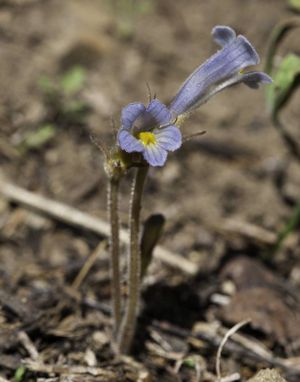 Taxonomy
Scientific classification
Kingdom:
Plantae

Subkingdom:

Viridiplantae



Phylum:

Tracheophyta



Subphylum:

Spermatophytina



Class:

Magnoliopsida



Subclass:

Asteranae



Order:

Lamiales



Family:

Orobanchaceae



Genus:
Aphyllon

Species:
Aphyllon purpureum (A. Heller) Holub (unaccepted)

Synonyms

Orobanche purpurea Jacq.
Orobanche uniflora L.
Aphyllon uniflorum (L.) A. Gray
Description
Fleshy root parasites, 1-5 cm. stems, which are much shorter than pedicels, which are 3-10 cm. long. Plants glandular-hairy above.
Leaves lacking, flowers without bractlets.
Corolla pale to deep purple, occasionally ochroleucous or yellow, pedicels yellowish to dull reddish. Corolla lobes about 2 times as long as corolla tube.
Fruit is a 2-celled capsules.[2][3]
Bloom Period
April to August[4]
Distribution
Southern BC and southern Alaska south, on both sides of Cascades, to California, East to Alberta and Rocky Mountain States.[2]
Habitat
Moist to dry meadows and forest openings in the lowland, steppe and montane zones.[3]
Mostly parasitic on the roots of herbaceous Asteraceae, Saxifragaceae and Sedum.[2]
Uses
The whole plant is edible raw or cooked. Medicinally, A. purpureum is laxative and sedative.[5]
Seed
Aphyllon purpureum
Seed sample from 2011
Features
Average Measurement: 0.2 x 0.1 x 0.1
Measurement Range: L: 0.1 – 0.3, W: 0.1 – 0.2, D: 0.1 – 0.2
Latitudinal Cross Section: elliptical

Longitudinal Cross Section: elliptical

Shape: Seed very small, slightly narrower at hilum and opposite apex. Seed generally egg shaped, some specimens more slender than others.
Color: Most seeds brown, some tan.
Surface: Seed coat deeply honeycombed, and somewhat iridescent.
Basic Explanations and Assumptions:
The dimensions for the seeds are length x width x depth. The location of the hilum is used as the base of the seed, and the length is measured from hilum to the opposite apex. Where a style is present, the length is measured from the hilum to the bottom of the style. Width is measured at a right angle to the length at the widest part. Depth is measured at a right angle to the intersection of height and width lines.
Measurements included are the mean average for each measurement of ten separate seeds.
All measurements in millimeters unless otherwise noted.
Photo Gallery
References