Castilleja levisecta
From Puget Prairie Plants
Scientific Name: Castilleja levisecta
Family: Orobanchaceae
Common Names: golden paintbrush
Codon: CASLEV
---
Taxonomy
Scientific classification
Kingdom:
Plantae

Subkingdom:

Viridiplantae



Phylum:

Tracheophyta



Subphylum:

Spermatophytina



Class:

Magnoliopsida



Subclass:

Asteranae



Order:

Lamiales



Family:

Orobanchaceae



Genus:
Castilleja Mutis ex L. f.

Species:
Castilleja levisecta Greenm.

Description
Erect, perennial, hemiparasitic[2] herb with mostly unbranched stems growing from a woody base and taproot[3] and showy, terminal flowers; sticky-villous, up to 50 cm tall.[4] Leaves alternate, distally 3-7-lobed, to 5.2 cm long.[3] Inflorescences are leafy bracteate, terminal spikes,[5] the bracts terminally lobed, yellow.[6] Flowers zygomorphic; calyx 4-lobed, unequal, yellow; corolla tubular, bilabiate; stamens 5, didanymous, epipetalous; ovary superior, becoming a loculicidal capsule.[5]
Bloom Period
April- September[4]
Distribution
Vancouver Island, the Puget Sound and Willamette Valley.[4]
This is a federally threatened species and an endangered species in Washington.
Habitat
Meadows and prairies at low elevations. Often on glacially derived soils (Gamon et al 2000)
Uses
Ecology and Wildlife
Pollinator food source (Evans et al 1984), hemiparasitic – grows better with Festuca roemeri.
Important host plant for the federally endangered Taylor's checkerspot butterfly
Propagation
a) SEED PROPAGATION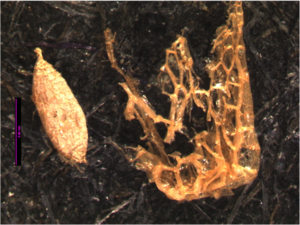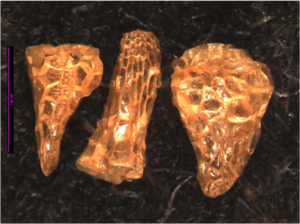 Seed
Seed sample from: 2010
Measurement: 1.4 x 0.7 x 0.6
Measurement range: L: 1.1 – 1.5, W: 0.5 - 0.9, D: 0.4 - 0.9
Shape: Seed is narrow at the hilum, widening at opposite end to create a cone like shape.
Color: Embryo surrounded by distinct honeycombed seed coat that is light tan and transparent. Inside, a golden brown, rice-shaped embryo is visible.
Surface: Seed is shiny and deeply honeycombed in texture.
Latitudinal cross section: elliptical

Longitudinal cross section: triangular

Basic Explanations and Assumptions:
The dimensions for the seeds are length x width x depth. The location of the hilum is used as the base of the seed, and the length is measured from hilum to the opposite apex. Where a style is present, the length is measured from the hilum to the bottom of the style. Width is measured at a right angle to the length at the widest part. Depth is measured at a right angle to the intersection of height and width lines.
Measurements included are the mean average for each measurement of ten separate seeds.
All measurements in millimeters unless otherwise noted.
Photo Gallery
References
http://plants.usda.gov/java/ClassificationServlet?source=profile&symbol=CALE27&display=31 http://biology.burke.washington.edu/herbarium/imagecollection.php http://www.wildflower.org/plants/result.php?id_plant=CALE27 http://www.centerforplantconservation.org/collection/cpc_viewprofile.asp?CPCNum=824