Hieracium scouleri
From Puget Prairie Plants
Scientific Name: Hieracium scouleri
Family: Asteraceae
Common Names: hound tongue hawkweed, Scouler's hawkweed, woolly weed
Synonyms/Misapplications: Hieracium albertinum, Hieracium chapacanum, Hieracium cusickii, Hieracium cynoglossoides
Codon: HIESCO
---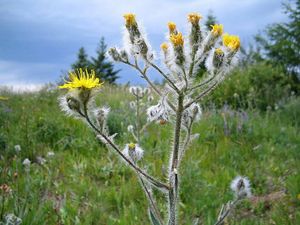 Taxonomy
Scientific classification
Kingdom:
Plantae

Subkingdom:

Viridiplantae



Phylum:

Tracheophyta



Subphylum:

Spermatophytina



Class:

Magnoliopsida



Subclass:

Asteranae



Order:

Asterales



Family:

Asteraceae



Genus:
Hieracium L.

Species:
Hieracium scouleri Hook.

Synonyms

Hieracium albertinum Farr
Hieracium chapacanum Zahn
Hieracium cusickii Gandog.
Hieracium cynoglossoides Arv.-Touv.
Hieracium flettii H. St. John & Warren
Hieracium scouleri var. scouleri Hook.
Hieracium scouleri var. albertinum (Farr) G.W. Douglas & G.A. Allen
Hieracium scouleri var. griseum (Rydb.) A. Nelson
Description
Native rhizomatous perennial, stem ranging from nearly glabrous to densely wooly-hairy, stem producing a milky juice.[2][3]
Leaves are elliptical, winged petioles towards base, becoming smaller and sessile up the stem.[4] Leaves are generally hairy on both sides, with long, smooth, or barbellate hairs, not glandular, if leaves are subglabular (almost hairless), then the midveins and margins often have short-glandular hairs, leaves tufted at base during anthesis.[3]
Inflorescence consists of yellow ray florets, subtended by an involucre of overlapping gland tipped bracts.[5] Receptacle naked.[3]
Fruit is a ribbed achene, ~3mm. long, pappus whitish or tawny.[6]
Genus comes from Greek hierax, hawk.[3]
Bloom Period
June-August.[4]
Distribution
Central BC to northern California, east to Alberta, Montana and Utah.[3]
Habitat
Forest, meadows, prairies, rocky slopes, stream banks, roadsides, thickets.[3]
Uses
Sx̌ʷyʔiɬpx use of infusion of leaves and roots, taken as a general tonic.[7]
Propagation
See White, Chris, 'Plant Propagation Protocol for Hieracium scouleri' Available at http://courses.washington.edu/esrm412/protocols/protocols_files/forbs_III.htm for propagation information.
Photo Gallery
References