Lomatium triternatum
From Puget Prairie Plants
Scientific Name: Lomatium triternatum
Family: Apiaceae
Common Names: triternate biscuit-root
Codon: LOMTR I
---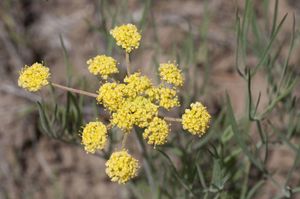 Taxonomy
Scientific classification
Kingdom:
Plantae

Subkingdom:

Viridiplantae



Phylum:

Tracheophyta



Subphylum:

Spermatophytina



Class:

Magnoliopsida



Subclass:

Asteranae



Order:

Apiales



Family:

Apiaceae



Genus:
Lomatium Raf.

Species:
Lomatium triternatum (Pursh) J.M. Coult. & Rose

Plant Description
For the Lomatium genus, mature fruit shape, aspect ratio, and pedicel length are diagnostic.[2]
Native taprooted perennial herb, growing up to 8 dm tall, glabrous to finely hairy.[3][4]
Leaves are mostly basal or lower cauline, ternately to ternately-pinnately compound, leaflets linear to lanceolate-ovate.[5][4]
Inflorescence of compound umbels, corollas yellow, spokes of the umbel of unequal lengths, 2-10 cm long; involucels present.[5]
Fruit +- 8-10 mm x +-3-5.5mm, elliptical, mature ribs glabrous to minutely hairy.[2][5]
Bloom Period
April to July [6]
Distribution
Southern Alberta and southern BC southward to northwest Montana, central Idaho, and throughout eastern Oregon and the sagebrush steppe of eastern Washington, prairies in south Puget Sound.[2][3]
Habitat
Dry, open slopes and grasslands in the lowland, steppe, and montane zones.[7]
Uses
Many Lomatiums are important food plants.
Sx̌ʷyʔiɬpx use of dried flowers and upper leaves as flavoring for stews and other foods, also dried flowers and leaves taken for colds and sore throats.
Atsugewi use of roots as food, cooked in earth oven.[8]
Propagation
Seed matures in July or August. Seed disarticulates easily from stems.
Requires extensive stratification, fall dormant seeding preferred.
Above-ground growth is slow, as plant establishes taproot. Many plants will not produce flowers and fruits in the first few years.[9]
Seed
Seed sample from: 2011
Average Measurement: 9.5 x 3.3 x 1
Measurement Range: L: 7.25 - 12.5, W: 3 - 4, D: 0.5 - 1.5
Features
Shape: Seed a schizocarp, winged, laterally compressed, and ribbed.
Color: On one seed face, there are three white ribs that run across a dark reddish brown surface. On the opposite seed face there is one rib that bisects the dark brown.
Surface: Seeds are matte.
Latitudinal Cross Section: rhombic

Longitudinal Cross Section: elliptical

Basic Explanations and Assumptions:
The dimensions for the seeds are length x width x depth. The location of the hilum is used as the base of the seed, and the length is measured from hilum to the opposite apex. Where a style is present, the length is measured from the hilum to the bottom of the style. Width is measured at a right angle to the length at the widest part. Depth is measured at a right angle to the intersection of height and width lines.
Measurements included are the mean average for each measurement of ten separate seeds.
All measurements in millimeters unless otherwise noted.
Photo Gallery
References