Lupinus bicolor
From Puget Prairie Plants
Scientific Name: Lupinus bicolor
Family: Fabaceae
Common Names: field lupine, small-flowered lupine, two-color lupine
Synonyms/Misapplications: Lupinus hirsutulus, L. micranthus, L. polycarpus, L. strigulosus
Codon: LUPBIC
---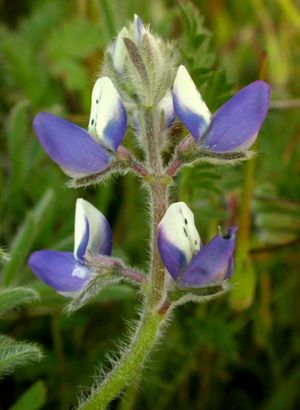 Taxonomy
Scientific classification
Kingdom:
Plantae

Subkingdom:

Viridiplantae



Phylum:

Tracheophyta



Subphylum:

Spermatophytina



Class:

Magnoliopsida



Subclass:

Rosanae



Order:

Fabales



Family:

Fabaceae



Genus:
Lupinus L.

Species:
Lupinus bicolor Lindl.

Description
Native taprooted annual, up to 4 dm tall.
Leaves are alternate, palmately compound with 5-8 leaflets, appressed hairy on one or both sides.[2]
Produces one, sometimes branched, flowering stem, on which flowers are scattered, not whorled.[2] Papillonaceous flowers are pale blue to deep purple, with a white area on the banner, often with blue or purple spots, which turns magenta after pollination.[3] The keel is white, generally pointed, with ciliate upper margins.[4][5]
The pods are appressed-hairy, bearing 4-8 seeds.[2]
Bloom Period
April to July.[3]
Distribution
Chiefly west of the Cascades in Washington state, but also in southeastern part of state via the Columbia River Gorge; British Columbia south to California, east to Arizona.[5]
Habitat
Open, gravelly and sandy sites, prairies.[5]
Uses
Important nectar source for bees.[6]
Host plant for the Arrowhead Blue butterfly.[7]
According to Welch, there is documentation of Northern Pomo use as food, the whole plant, except the roots, baked and eaten as greens, and young greens eaten fresh.[8]
Several species in the Lupinus genus are important food plants.
Seed
Seed sample from: 2011
Average Measurement: 2.4 x 1.9 x 0.9
Measurement Range: L: 2 - 3, W: 1.75 - 2.25, D: 0.75 - 1
Features
Color: Seeds mostly brown, speckled with brown, gray, off-white, and/ or black. Seeds have distinctive black splotchy line that crosses the lateral seed face to encircle the hilum, inside of which is another similar white line. Seed edges are less heavily speckled with dark colors, giving them a more off-white appearance.
Surface: Seed surface smooth and glossy, with some small concave pockets.

Latitudinal Cross Section: elliptical

Longitudinal Cross Section: elliptical

Basic Explanations and Assumptions:
The dimensions for the seeds are length x width x depth. The location of the hilum is used as the base of the seed, and the length is measured from hilum to the opposite apex. Where a style is present, the length is measured from the hilum to the bottom of the style. Width is measured at a right angle to the length at the widest part. Depth is measured at a right angle to the intersection of height and width lines.
Measurements included are the mean average for each measurement of ten separate seeds.
All measurements in millimeters unless otherwise noted.
Photo Gallery
References