Marah oregana
From Puget Prairie Plants
Scientific Name: Marah oregana
Family: Cucurbitaceae
Common Names: coastal manroot, wild cucumber
Synonyms/Misapplications: Echinocystis oregana, Marah oreganus, Sicyos oregana, Megarrhiza oregana, Micrampelis
oregana
Codon: MARORE
---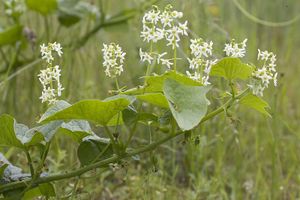 Taxonomy
Scientific classification
Kingdom:
Plantae

Subkingdom:

Viridiplantae



Phylum:

Tracheophyta



Subphylum:

Spermatophytina



Class:

Magnoliopsida



Subclass:

Rosanae



Order:

Cucurbitales



Family:

Cucurbitaceae



Genus:
Marah Kellogg

Species:
Marah oregana (Torr. & A. Gray) Howell

Synonyms

Marah oreganus (Torr. & A. Gray) Howell
Echinocystis oregana (Torr. & A. Gray) Cogn.
Sicyos oreganus Torr. & A. Gray
Megarrhiza oregana (Torr. & A. Gray) S. Watson
Description
Native perennial, trailing or climbing with tendrils.
Leaves are alternate, palmately lobed, rough and hairy, and cordate at the base.
Flowers are unisexual, corolla campanulate and white, monoecious.
The bladder-like fruits are sparsely to densely covered with flexible prickles that harden with age, dehiscent at apex when dry. [2]
Name comes from Hebrew marah, bitter, from the intensely bitter root.[3]
Bloom Period
April-June[4]
Distribution
Southwestern BC southwards, west of Cascade-Sierran acis, to northern California, eastwards in Columbia River Gorge, northeast Oregon, and rarely Hells Canyon. [3]
Habitat
Bottomlands and open slopes at low elevations.[3]
Uses
Squaxin use of an infusion of smashed stalks as a soak for sore hands, plant considered poisonous.[5]
Seed
Seed sample from: 2011
Average Measurement: 16.8 x 17 x 8.5
Measurement Range: L: 15 – 18, W: 16 – 18, D: 8 – 9
Features
Shape: Seeds very large, rounded with a pinched looking hilum.
Color: Dark brown, with a lighter brown hilum. Under high magnification seed appears speckled with black.
Surface: Seed covered in very fine velvety hairs. Under high magnification seed appears slightly glossy, but with naked eye, seed is matte.

Latitudinal Cross Section: elliptical

Longitudinal Cross Section: elliptical

Photo Gallery
References