Perideridia montana
From Puget Prairie Plants
Scientific Name: Perideridia montana
Family: Apiaceae
Common Names: mountain yampah, Gaidner's yampah
Synonyms/Misapplications: Perideridia gairdneri (misapplied, Mathias, in previous Flora), Atenia montana, Carum garrettii, Carum montanum, P. g. subsp. bolanderi
Codon: PERMON
---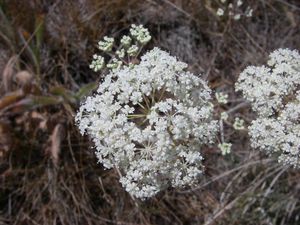 Taxonomy
Scientific classification
Kingdom:
Plantae

Subkingdom:

Viridiplantae



Phylum:

Tracheophyta



Subphylum:

Magnoliophyta



Class:

Magnoliopsida



Subclass:

Asteranae



Order:

Apiales



Family:

Apiaceae



Genus:
Perideridia Richb.

Species:
Perideridia gairdneri (Hook. & Arn.)

Subspecies:
Perideridia gairdneri ssp. 'borealis T.I. Chuang & Constance

Synonyms

Atenia montana (Blank.) Rydb.
Carum montanum Blank.
Perideridia montana (Blank.) Dorn
Description
Mature fruits needed for accurate identification.
Glabrous perennial herbs from thickened tuberous edible roots. [2]
Leaves merely once or twice pinnate or ternate, the terminal segments long and narrow.[3]
Inflorescence compound, spokes up to 6 mm at maturity, involucel bracts mostly setaceous, or absent. Flowers generally 5-7 veined Rays generally 11-16.[3][2][4]
Fruit glabrous, sub-orbicular, 2-3 mm. long and wide, with prominent ribs. [5]
Bloom Period
July to August[5]
Distribution
Southern BC south, on both sides of Cascades, to southern California, east to northern Great Plains, Wyoming and Colorado.[2]
Habitat
Perideridia gairdneri prefers well-drained, nitrogen medium soils. It tolerates slightly acid to mildly alkaline soils. It is very shade intolerant. It is a climax species in drier sites, and is found in the meadow communities in Garry oak ecosystems. Grows from low to middle elevations.[3]
Uses
Important food plant in many places.
Newe use as a food, pit-roasted.
Pomo staple food, roots and greens.
Syilx food, eaten raw, boiled or cooked, sliced, dried and mixed with dried, powdered deer meat.[6]
Propagation
Seed
Seed sample from 2011
Features
Average Measurement: 2.3 x 1 x 1
Measurement Range: L: 1.5 – 3, W: 0.8 – 1.1, D: 0.75 – 1.3
Latitudinal Cross Section: ovate
Longitudinal Cross Section: elliptical
Shape: Seed schizoid, flat on one plane, and rounded on the opposite plane. Lots of irregularity in shape.
Color: Various shades of green and brown. Hilum usually white. Some seeds have pink from remnant flower structure at apex opposite hilum.
Surface: Seeds have five ridges on outer seed face that run from hilum to opposite apex longitudinally. Inner seed face has one white rib that bisects the seed face.
Basic Explanations and Assumptions:
The dimensions for the seeds are length x width x depth. The location of the hilum is used as the base of the seed, and the length is measured from hilum to the opposite apex. Where a style is present, the length is measured from the hilum to the bottom of the style. Width is measured at a right angle to the length at the widest part. Depth is measured at a right angle to the intersection of height and width lines.
Measurements included are the mean average for each measurement of ten separate seeds.
All measurements in millimeters unless otherwise noted.
Photo Gallery
References