Silene scouleri
From Puget Prairie Plants
Scientific Name: Silene scouleri subsp. scouleri
Family: Caryophyllaceae
Common Names: Scouler's campion, Scouler's catchfly, wild pink, silene
Codon: SILSCO
---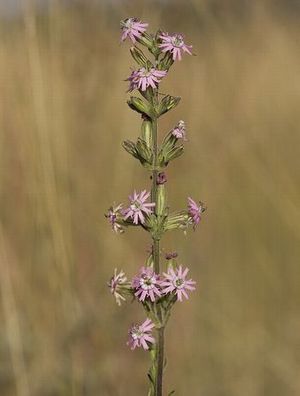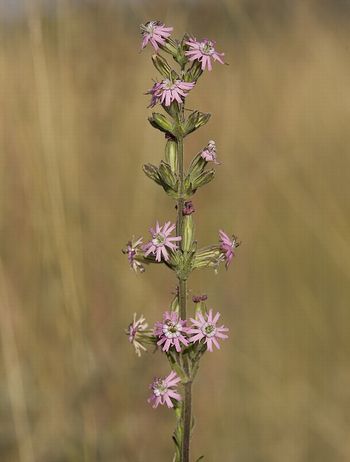 Taxonomy
Scientific classification
Kingdom:
Plantae

Subkingdom:

Viridiplantae



Phylum:

Tracheophyta



Subphylum:

Spermatophytina



Class:

Magnoliopsida



Subclass:

Caryophyllanae



Order:

Caryophyllales



Family:

Caryophyllaceae



Genus:
Silene L.

Species:
Silene scouleri Hook.

Subspecies:
S. scouleri ssp. scouleri Hook.

Description
Perennial herb growing from a taproot and branched caudex[2] with many greenish-white to purplish flowers, up to 80 cm tall.[3] Stems several,[3] erect, puberulent.[2] Basal leaves petiolate, oblanceolate, to 15 cm long;[3] cauline leaves opposite, in 12 pairs, often sessile, lanceolate or similar.[2] Inflorescences cymose,[4] elongate and narrow;[3] calyx tubular, 5-lobed, pubescent, pale with prominent darker venation;[4] petals 5, clawed, limbs 2 to 4-lobed;[3] stamens 10, epipetalous;[4] styles 3, ovary stalked, becoming 1-celled capsule.[3]
Bloom Period
June - August [3]
Distribution
S. scouleri subsp. scouleri grows in west Cascades, B.C. to California, transitional to S. scouleri subsp. scouleri in the east Cascades in Washington and Oregon.[4]
Habitat
Prairies and open forest, low to moderate elevations [3]
Uses
First Nations
Nɨwɨ medicine, a warm infusion of pounded plant used as an emetic for stomach pain.[5]
Propagation
Store seeds in refrigerator. Time to germination: 7 days. High percentage germination recorded. [6]
Native Plant Network Propagation Protocol
Photo Gallery
References