Viola adunca
From Puget Prairie Plants
Scientific Name: Viola adunca
Family: Violaceae
Common Names: early blue violet, blue violet, western dog violet
Codon:VIOADU
---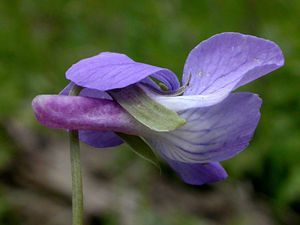 Taxonomy
Scientific classification
Kingdom:
Plantae

Subkingdom:

Viridiplantae



Phylum:

Tracheophyta



Subphylum:

Spermatophytina



Class:

Magnoliopsida



Subclass:

Rosanae



Order:

Malpighiales



Family:

Violaceae



Genus:
Viola L.

Species:
Viola adunca Sm.

Description
Perennial herb growing from slender rhizomes with purple flowers, stemless to 10 cm tall.[2] Leaves simple, entire to finely crenate,[3] 1-3 cm long, cordate-ovate, petiolate.[4] Flowers 5-merous, solitary, axillary, zygomorphic; sepals 5, lanceolate;[3] petals 5, lowermost larger and spurred (spur 3-7 mm[3]), upper 4 in 2 pairs;[5] lower 3 petals white proximally with dark violet veins, lateral 2 bearded;[3] stamens 5, connivent around pistil;[5] pistil 3-carpellate with 1 style, globose stigma[5] and superior ovary with parietal placentation becoming a 3-valved capsule.[4]
Bloom Period
April-August[4]
Distribution
Widespread, Alaska to California, both sides of Cascades, east to Atlantic.[5]
Habitat
Dry to moist meadows, open woods, grasslands and open, disturbed ground from lowlands to near timberline[2]
Uses
Ecological: Key food species for the larvae of the silverspot butterfly.
Landscaping: Native violets "can produce the right substitute with a restrained beauty" to exotics such as pansies. "This is an easy, dependable and lovely plant for rather dry, open woods or lower reaches of the rockery in sun or partial shade." [6]
First Nations - Use by Blackfoot people as a dye. Use by several tribes as a treatment for external or stomach pain.[7]
Propagation
Cold moist stratification improves germination. To stratify outdoors, sow in container from November through January, allow exposure to rain, do not protect from frost, until after germination. Best to sow several seeds into a single tray, pluck out and transplant individually in the spring. Emergence usually occurs once soil has warmed in April, sometimes May. Seed should be brown in color. Buff or pale colored seed indicates immature development.[8]
Photo Gallery
References