Collinsia parviflora
From Puget Prairie Plants
Scientific Name: Collinsia parviflora
Family: Plantaginaceae
Common Names: small-flowered blue-eyed Mary, collinsia
Synonyms/Misapplications: Collinsia grandiflora
Codon: COLPAR
---
Taxonomy
Scientific classification
Kingdom:
Plantae

Subkingdom:

Viridiplantae



Phylum:

Tracheophyta



Subphylum:

Spermatophytina



Class:

Magnoliopsida



Subclass:

Asteranae



Order:

Lamiales



Family:

Plantaginaceae



Genus:
Collinsia Nutt.

Species:
Collinsia parviflora Lindl.

Synonyms

Antirrhinum tenellum Pursh
Collinsia tenella (Pursh) Piper
Collinsia parviflora var. parviflora Lindl.
Collinsia grandiflora var. pusilla A. Gray
Description
Annual, erect herb with small axillary blue to pinkish flowers, up to 40 cm tall.[2] Stem simple to branched, sparsely pubescent.[2] Leaves opposite; lower leaves long-petiolate, orbicular to rotund; upper leaves oblong to linear-lanceolate, to 4 cm long.[3] Flowers zygomorphic, pedicelate 4-7 mm long;[2] calyx 5-lobed, subequal; corolla bilabiate, tube not bent at right angle to calyx, 2 upper lobes, 3 lower lobes; stamens 4, didynamous; stigma capitate,[4] ovary 2-carpellate, superior,[5] becoming an elliptical capsule.[2]
Bloom Period
March - July[2]
Distribution
Occurs in BC extending south to California and east to Manitoba, Michigan, Colorado and Arizona (Pojar and MacKinnon, 1994; Ganders and Krause, 1986; Elle, 2002).
Habitat
Rocky outcrops in coastal Douglas-fir zone. Areas that dry out rapidly in summer. Low to middle elevations but occasionally higher. Absent from the wet outer coast.[2]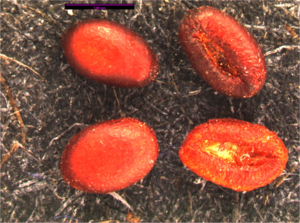 Uses
Ute use as an external treatment for soreness.[6]
Propagation
Native Plant Network Propagation Protocol
Seed
Abbreviation: COPA
Seed sample from: 2011
Average measurement: 0.7 x 1.5 x 1
Measurement range: L: 0.5 - 0.9, W: 1.3 x 1.7, D: 0.9 x 1.3
Features
Color Seeds bright red with elliptical, white, large depression that is the hilium on a longer seed side.
Surface Seeds red, matte, and very slightly bumpy. Possibly smoother than COGR. Some seeds have seed coat ridges at the edge of the seed, giving it a somewhat winged look.
Seed slightly larger than Collinsia grandiflora.
Could be confused with: Collinsia grandiflora.
Latitudinal cross section: elliptical

Longitudinal cross section: irregular
Basic Explanations and Assumptions:
The dimensions for the seeds are length x width x depth. The location of the hilum is used as the base of the seed, and the length is measured from hilum to the opposite apex. Where a style is present, the length is measured from the hilum to the bottom of the style. Width is measured at a right angle to the length at the widest part. Depth is measured at a right angle to the intersection of height and width lines.
Measurements included are the mean average for each measurement of ten separate seeds.
All measurements in millimeters unless otherwise noted.
Photo Gallery
References