Danthonia spicata
From Puget Prairie Plants
Common name:
Abbreviation Code: DASP
Taxonomy
Kingdom: Plantae
(unranked): Angiosperms
(unranked): Monocots
(unranked): Commelinids
Order: Poales
Family: Poaceae
Genus: Danthonia
Species: D. spicata
Description
Bloom Period
Distribution
Habitat
Uses
Propagation
Seed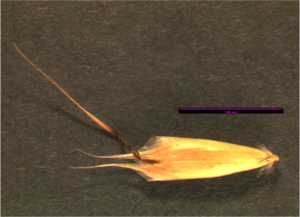 Basic Explanations and Assumptions:
The dimensions for the seeds are length x width x depth. The location of the hilum is used as the base of the seed, and the length is measured from hilum to the opposite apex. Where a style is present, the length is measured from the hilum to the bottom of the style. Width is measured at a right angle to the length at the widest part. Depth is measured at a right angle to the intersection of height and width lines.
Measurements included are the mean average for each measurement of ten separate seeds.
All measurements in millimeters unless otherwise noted.
Photo Gallery
References