Difference between revisions of "Drymocallis glandulosa"
From Puget Prairie Plants
 

(26 intermediate revisions by 3 users not shown)
Line 1:
Line 1:
−

'''common names''' Sticky cinquefoil

+

'''' ''

 
+
 
+

cinquefoil

 
+
 
+
 
+
 
+
 
+
 
+
 
+
 
+
 
+
 
+
 
+
 
+
 
+
 
+
 
+
 
+
 
+
 
+
 
+
 
+
 
+
 
+
 
+
 
+
 
+
 
+
 
+
 
+
 
 
−

'''Abbreviation code:''' POGL

+
 
+

'''

 
+

: '''

 
+
 
 
−

==Taxonomy==

+

=

 
 
−

*Kingdom: Plantae

+

is a glabrous .=

−

*(unranked): Angiosperms

+
−

*(unranked): Eudicots

+
−

*Order: Rosales

+
−

*Family: Rosaceae

+
−

*Genus: Potentilla

+
−

*Species: P. glandulosa

+
−

==Description==

+
−

Sticky Cinquefoil is a one to two foot tall perennial with creamy yellow flowers. It has soft pinnately compound leaves and red stems. It is a highly variable perennial forb. Erect stems arise 4 to 24 inches (10-60 cm) from a loosely branched caudex. The mostly basal leaves are pinnately compound and sharply serrate. Leaves and stems are glandular pubescent. Flowers are few to many in a flat-topped cyme. Fruits are glabrous achenes.

+
−

==Bloom Period==

+
−

June - August

+
 
 
−

==Distribution==

+

====

−

Western N. America.

+
 
 
−

==Habitat==

+

====

−

Ecological Setting Sticky cinquefoil occurs in a wide variety of habitat types

+

of , and .:

−

Soil Texture Medium textured, well-drained loam Light (sandy), medium (loamy) and heavy (clay) soils and requires well-drained soil.

+
−

+
−

Shade Tolerance: Intermediate shade tolerance. It can grow in semi-shade (light woodland) or no shade.Prefers a position in full sun, but tolerates shade.

+
 
 
−

Successional Status: Sticky cinquefoil is an early-seral, shade-intolerant species that establishes and/or increases following fire, logging, and grazing. Sticky cinquefoil is not a common component of mature forest vegetation. However, it can persist on old fields for several decades after abandonment.

+
−

Sticky cinquefoil was prominent the 1st and 2nd year following logging on ponderosa pine-pinegrass-elk sedge (Pinus ponderosa-Calamagrostis rubescens-Carex geyeri) sites in eastern Oregon. It was not abundant prior to logging. Sticky cinquefoil increased in the first 5 years after clearcutting in a northern Sierra Nevada stand dominated by Pacific ponderosa pine (P. ponderosa var. ponderosa) on the Challenge Experimental Forest. It was not stated whether it was present in the stand before logging.

+

to .

 
 
−

==Uses==

+

=

−

==Propagation==

+
−

Seed - sow early spring or autumn in a cold frame. When they are large enough to handle, prick the seedlings out into individual pots and grow them on in the greenhouse for their first winter. Plant them out into their permanent positions in late spring or early summer, after the last expected frosts. Division in spring. Larger divisions can be planted out direct into their permanent positions. We have found that it is better to pot up the smaller divisions and grow them on in light shade in a cold frame until they are well established before planting them out in late spring or early summer.

+
 
+
 
+
 
+
 
+

======

 
+

a , and .

 
+

. ..

 
 
−

==Photo Gallery==

+
−

==References==

+
 
+

 

 
+

==Photo Gallery==

 
+
 
+
 
+
 
+
 
+
 
+

 

 
+

==References==

 
+
---
Latest revision as of 10:12, 29 June 2021
Scientific Name: Drymocallis glandulosa subsp. glandulosa
Family: Rosaceae
Common Names: sticky cinquefoil, Douglas's cinquefoil
Synonyms/Misapplications: Potentilla glandulosa, D. glandulosa vars. reflexa, wrangelliana.
Codon: DRYGLA
---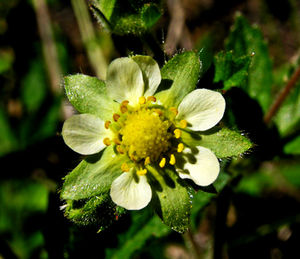 Taxonomy
Scientific classification
Kingdom:
Plantae

Subkingdom:
Viridiplantae

Phylum:
Tracheophyta

Subphylum:
Spermatophytina

Class:
Magnoliopsida

Subclass:
Rosanae

Order:
Rosales

Family:
Rosaceae

Genus:
Drymocallis Fourr. ex Rydb.

Species:
Drymocallis glandulosa (Lindl.) Ryb

Subspecies:
Drymocallis glandulosa var. glandulosa (Lindl. Ryb)

Synonyms

Potentilla glandulosa Lindl.
Potentilla glandulosa ssp. glandulosa Lindl.
Potentilla glandulosa ssp. typica D.D. Keck
Description
Tufted glandular perennial herb with reddish stems.[2]
Inflorescence a few-flowered cyme, rotate flowers 5-petalled, corolla and calyx spreading to reflexed, in this subspecies, white or yellow petals slightly shorter than sepals.[3]
Leaves are alternate, stipulate, odd-pinnate compound.[3]
Fruit is a glabrous achene.[3]
Bloom Period
June - August[2]
Distribution
BC and south to California, on both sides of the Cascades, and east to Montana.[3]
Habitat
Open areas from lowland meadows to forest openings.[2]
Early-seral, disturbance adapted, shade-intolerant, requiring well-drained soil.[4]
Uses
Nlaka'pamux use of decoction as a general tonic, and a stimulant tonic. [5]
Propagation
Cold stratification not required. Sticky cinquefoil seeds are stimulated to germinate by warm temperatures, and germination may be enhanced by a stratification period. Sticky cinquefoil germinates on bare soil in full sun and often germinates profusely following scarification resulting from either mechanical treatments or heavy livestock use. In a greenhouse, fresh, untreated sticky cinquefoil seeds germinated 9 days after being sown.[4]
Photo Gallery
References