Elymus glaucus
From Puget Prairie Plants
Scientific Name: Elymus glaucus
Family: Poaceae
Common Names: blue wild-rye
Codon: ELYGLA
---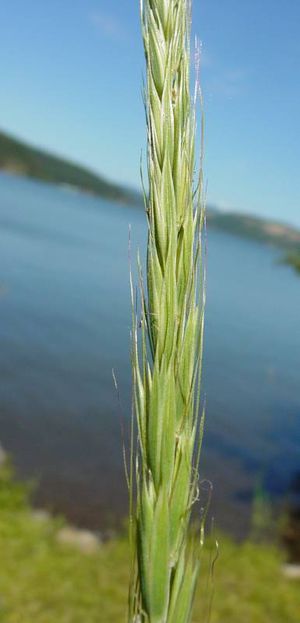 Taxonomy
Scientific classification
Kingdom:
Plantae

Subkingdom:
Viridiplantae

Phylum:
Tracheophyta

Subphylum:
Spermatophytina

Class:
Magnoliopsida

Subclass:
Lilianae

Order:
Poales

Family:
Poaceae

Genus:
Elymus L.

Species:
Elymus Glaucus Buckley

Synonyms

Elymus americanus Vasey & Scribn. ex Cassidy
Elymus angustifolius Burtt Davy
Elymus hispidulus Burtt Davy
Elymus marginalis Rydb.
Elymus nitidus Vasey
Elymus petersonii Rydb.
Description
Blue wildrye is a large perennial bunchgrass. It is very tall (up to 5 feet) with an upright growth habit and just a few stems per plant. It is similar in stature and growth habit to slender wheatgrass. The leaf blades are thin and flat, ranging from 4-12mm (.2-.5 inch) wide. Leaf color changes from green to blue green, with a white waxy coating. Frosts induce dormancy.[2]
General: Tufted perennials, forming clumps up to 10 cm. wide, the hollow culms 5-10 dm. tall.
Leaves: Sheaths open, glabrous to pubescent, the collar often purplish; auricles usually present and well-developed; ligules about 1 mm. long, with marginal hairs; blades flat, 5-10 mm. broad, glabrous or scabrous to hairy.
Flowers: Inflorescence as single, terminal, stiff spike 5-15 cm. long; spikelets overlapping, usually 2 per node, borne flatwise on the rachis, 3- to 5-flowered, disarticulating above the glume; glumes narrowly lanceolate, mostly membranous, strongly 3- to 5-nerved, acuminate to short-awned; lemmas mostly glabrous, 10-12 mm. long, usually with a straight awn 1-2 cm. long; paleas nearly as long as the body of the lemmas.
Tufted perennial bunchgrass with terminal spikes, growing to 100 cm tall.[3] Stems erect, few per plant.[2] Few basal leaves, cauline leaf sheaths open,[3] pubescent or glabrous[4]; culms and leaf blades often glabrous;[3] ligules 1 mm, marginally haired.[4] Inflorescences with two spikelets at each node.[3] Spikelets usually with 2-6 flowers; articulation point above the glumes; glumes equal or nearly so, flattened, awns 0-9 mm,[5] 3 to 5-nerved, narrowly lanceolate and membranous;[4] lemmas awned, often glabrous, 10-12 mm long; paleas nearly equal to lemmas.[4]
Bloom Period
June - August[4]
Distribution
Alaska to California, east to the Midwest.[4]
Habitat
Open prairies, chaparral, meadows and forests with well-drained soils. High drought tolerance, disturbance adapted.[2]
Uses
Site Rehabilitation: A desirable species for use in erosion control. Blue wildrye is good for streambank restoration, meadow and swale seeding. It is also excellent for reseeding burned or disturbed areas in oak woodland or forest. Blue wildrye is not recommended to be seeded alone in revegetation plantings, and it should not make up more than 50% of the seed mix.
Wildlife: Blue wildrye can also provide excellent wildlife habitat for mammals, birds, and waterfowl. It provides good forage early in the season, but later, may be too coarse and stemmy.
Landscaping: The attractive, blue-green foliage adds value to commercial landscaping projects.
First Nations: Blue wildrye has similar uses as creeping wild rye, primarily as a cereal grain. It is less desirable for basketry as the nodes are thick, but this does not exclude its use in some baskets. Similar to creeping wildrye, there may be some ceremonial uses of blue wildrye.[2]
Propagation
see Plant Materials Technical Note No. 17, from USDA in Portland, OR to Natural Resources Conservation Service ("Seed Production of Blue Wildrye", April 1996)
Seed
Seed sample from: 2010
Average Measurement including husk and awn: 29.8 x 1.2 x 0.9
Measurement Range including husk and awn: L: 22 – 35, W: 1 – 1.5, D: 0.5 – 1
Average Measurement without husk or awn: 5.3 x 1 x 1
Measurement Range without husk or awn: L: 5 - 5.5, W: 0.9 – 1.1, D: 0.9 – 1
Features
Shape: Awn is straight and is 5 – 6 times as long as seed body. Awn is very finely toothed.
Other Structures: Inner seed has deep longitudinal sulcus on one side and a few fine longitudinal lines on the opposite seed face.
Color: Husks off white to tan, papillose with a slight sheen. Hilium is a darker brown color. Seed is tan at the ends, and blue to green in the middle.
Surface: Seed surface is smooth and matte.
Latitudinal Cross Section: elliptical

Longitudinal Cross Section: elliptical

Photo Gallery
References
USDA, NRCS. 2012. Elymus glaucus Buckley ssp. glaucus – blue wildrye USDA PLANTS Profile, PLANTS Database (http://plants.usda.gov/java/profile?symbol=elgl, 7 May 2012). National Plant Data Team, Greensboro, NC 27401-4901 USA. Retrieved 05/14/2012.