Ligusticum apiifolium
From Puget Prairie Plants
Scientific Name: Ligusticum apiifolium
Family: Apiaceae
Common Names: celery-leaf wild lovage, parsely-leaf wild lovage
Synonyms/Misapplications: Cynapium apiifolium
Codon: LIGAPI
---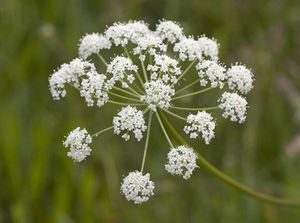 Taxonomy
Scientific classification
Kingdom:
Plantae

Subkingdom:

Viridiplantae



Phylum:

Tracheophyta



Subphylum:

Spermatophytina



Class:

Magnoliopsida



Subclass:

Asteranae



Order:

Apiales



Family:

Apiaceae



Genus:
Ligusticum L.

Species:
Ligusticum apiifolium (Nutt. ex Torr. & A. Gray) A. Gray

Description
Taprooted perennial herb, 4-15 dm tall.
Dissected leaves, leaflets also deeply pinnately lobed, petiole generally 1-3 dm.
Inflorescence of compound umbels, involucre and involucel both absent or inconspicuous. Pedicels unequal, rays of umbel usually 12-30, flowers white, petals five.
Ribs of fruit are wingless, carpophore bifid (divided into two) to base, stylopodium conic.[2]
Bloom Period
May-July.[3]
Distribution
Lowland west Cascades, southern Olympic Peninsula, and southern Puget Trough to California.[2]
Habitat
Lowland wooded slopes, prairies, and fencerows.[2]
Uses
Karuk use as of infusion of roots to stimulate apetite.[4]
Pomo use of root decoction for pulmonary hemorrhage.[5]
Kashaya Pomo use of root decoction for anemia.[5]
Ecological
Host plant for Agonopterix rosaciliella moth.[6]
Propagation
No treatment needed to propagate by seed.[6]
Seed
Seed sample from: 2011
Average Measurement: 4.5 x 2.1 x 1.4
Measurement Range: L: 4 – 5, W: 2 – 2.5, D: 1 – 2
Features
Shapes: Seeds have two distinct seed faces. One side is more flattened or concave, and the other is more convex. Hilum tapered, opposite apex rounded. Color: Entire seed several shades of brown.
Surface: One seed face has several distinct ridges running longitudinally from hilum to opposite apex. The other seed face has one longitudinal white line running from hilum to opposite apex. Seeds sometimes wrinkled or slightly bumpy, and somewhat lustrous.
Latitudinal Cross Section: ovate

Longitudinal Cross Section: elliptical

Photo Gallery
References