Navarretia intertexta
From Puget Prairie Plants
Scientific Name: Navarretia intertexta
Family: Polemoniaceae
Common Names: needleleaf navarretia, needleleaf pincushion-plant
Synonyms/Misapplications: Navarretia minima Nutt. var. intertexta
CODON: NAVINT
---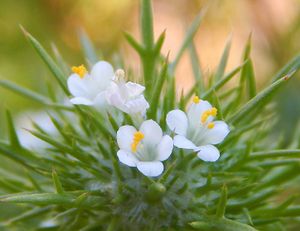 Taxonomy
Scientific classification
Kingdom:
Plantae

Subkingdom:

Viridiplantae



Phylum:

Tracheophyta



Subphylum:

Spermatophytina



Class:

Magnoliopsida



Subclass:

Asteranae



Order:

Ericales



Family:

Polemoniaceae



Genus:
Navarretia Ruiz & Pav.

Species:
Navarretia intertexta (Benth.) Hook.

Description
Annual taprooted herb.
Leaves 1-2 times pinnate, needle-like at tips, lobes spreading. Often white-hairy at leaf base.
Inflorescence consisting of terminal bracteate sessile flower heads, conspicuously hairy, bracts also forked, needle-like, lobes spreading, often exceeding corollas. Corollas white, 5 egg-shaped lobes, stamen exserted, exceeding corolla.
Fruits are 2-chambered capsules, each chamber containing 3-5 seeds, which become sticky when moistened.[2][3]
Bloom Period
June-August[4]
Distribution
Southwest BC to California, on both sides of Cascades, east to western Montana and Idaho, Utah, and Arizona, Rocky Mountains, and Great Basin.[5]
Habitat
Moist to moderately dry sites up to mid elevations in mountains.[5]
Photo Gallery
References