Silene scouleri
From Puget Prairie Plants
Scientific Name: Silene scouleri subsp. hallii
Family: Caryophyllaceae
Common Names: Scouler's campion, Scouler's catchfly, wild pink, silene
Previous Names/Misapplications:
Codon: SILSCO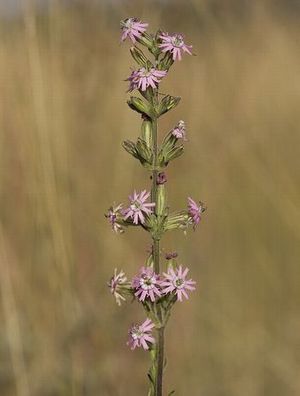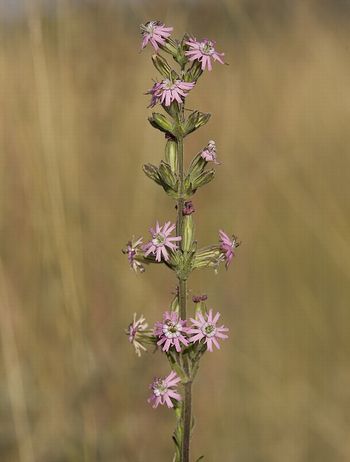 Taxonomy
Silene scouleri
Scientific classification
Kingdom:
Plantae

Subkingdom:
Tracheobionta

Phylum:
Spermatophyta

Subphylum:
Magnoliophyta

Class:
Magnoliopsida

Subclass:
Caryophyllidae

Order:
Caryophyllaceae

Family:
Caryophyllaceae

Genus:
Silene L.

Species:
Silene scouleri Hook

Subspecies:
S. scouleri subsp. scouleri

Description
Erect perennial herb, several stemmed, up to 8 dm tall.
Leaves: Leaves opposite, numerous, the basal slender-petiolate, the blades oblanceolate, up to 15 cm. long and 3 cm. wide; cauline leaves 2-8 pairs, reduced gradually upward, becoming sessile above.
Flowers: Flowers numerous, the inflorescence narrow and elongate, consisting of a series of small, congested, lateral cymes; calyx broadly tubular, 5-lobed, 10-18 mm. long; corolla greenish-white to purplish, the claw of the petal 7-16 mm. long, the blade flaring, 4-8 mm. long, from bi-lobed to nearly equally 4-lobed, with 2 appendages at the base, 1-3 mm. long; ovary with a stalk 3-6 mm. long, puberulent to woolly; stamens 10; styles 3.
Fruits: Capsule 1-celled.[1]
Bloom Period
June - August [1]
Distribution
S. scouleri subsp. scouleri grows in west Cascades, B.C. to California, transitional to S. scouleri subsp. scouleri in the east Cascades in Washington and Oregon.[2]
Habitat
Prairies and open forest, low to moderate elevations [1]
Uses
First Nations
Nɨwɨ medicine, a warm infusion of pounded plant used as an emetic for stomach pain.[3]
Propagation
Store seeds in refrigerator. Time to germination: 7 days. High percentage germination recorded. [4]
Photo Gallery
References